Social Donations
---
5.12 Post-disaster reconstruction of the Wenchuan Earthquake "One side is in trouble and all sides support Love and Xingda love the disaster area" Donation scene picture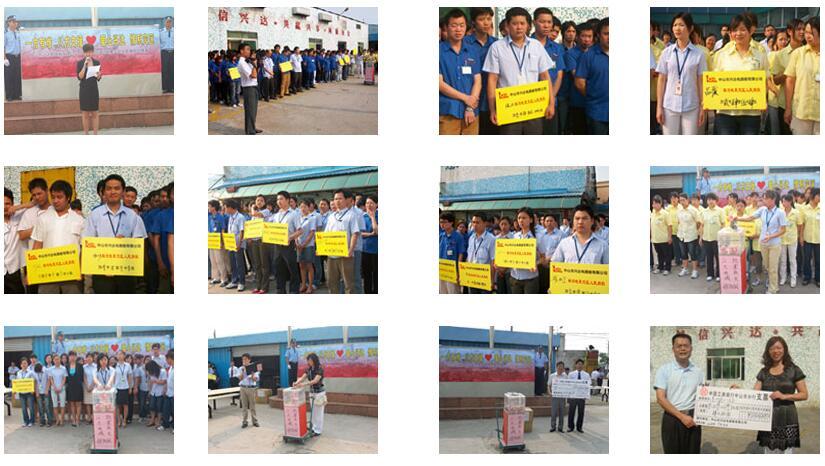 Yuanxing Tower, wholly-owned by Xingda Group, was officially completed and a solemn consecration ceremony was held
On October 11, 2010, the Yuanxing Tower, which Xingda Group exclusively donated more than 4 million yuan to build, was officially completed, and a solemn opening ceremony was held in the morning.

At 10 o'clock, Chairman Hu Zehong led the company's managers and management cadres to pray and wish one by one under the guidance of the monks, bless the people and prosperity of Fusha and prosperity, and bless the prosperity of Xingda. After praying, all the attendees took a group photo. In the end, Chairman Hu happily led the management cadres to the top of the seven-story Yuanxing Tower to enjoy the beautiful scenery around. Looking around, you can see the new appearance of the cities in the northern area of ​​Zhongshan such as Fusha, and the autumn wind is refreshing, which makes everyone feel very happy. Later, the sky was turbulent, lightning flashed, and the rain poured. Chairman Hu impromptuly commented: "The new look of the ancient temple, the project of the future; the weather is moving and the weather is good. I sincerely thank the Fusha government for giving Xingda an opportunity to benefit Fusha and give back to the society. . "

Fuxu Mountain has the reputation of "Fuxu Chuntao", the first of the Eight Fragrant Mountains in ancient times. Yuanxing Temple was built on the mountain, which was destroyed by war in the Qing Dynasty. Yuanxing Pagoda, standing on the main peak of Fuxu Mountain, is magnificent, seven stories high, a total of octagonal, marble outer walls, glazed pagoda top, equipped with yellow and green lighting, crisp wind chimes. When night falls, the pagoda is illuminated with lanterns. From a distance, it is resplendent and splendid. It has become a beautiful urban scenery of Fusha Town, and is considered as a new landmark in the northern township of Zhongshan. A new contribution to a famous historical and cultural city in China!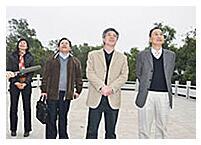 Qiu Shuhong (second from right), member of the Standing Committee of Zhongshan Municipal Party Committee and Minister of Propaganda, visited Yuanxing Tower accompanied by the leaders of the Party Committee of Fusha Town

On May 14, 2010, Xingda actively participated in the "One Hundred Enterprises Helping One Hundred Families with Impoverished Disabled" love activity in Zhongshan City, and donated 3,000 yuan to the impoverished and disabled families in Fusha Town.

On the eve of the Mid-Autumn Festival in 2011, Xingda Hongye sent to more than 60 villagers in Xiangnan Village, and each household presented an exquisite Mid-Autumn Festival condolence gift containing edible oil and moon cakes.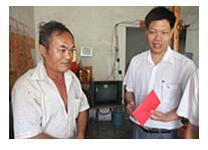 兴达鸿业干部向贫困残疾人家庭慰问。