Student Donations
---
Xingda people are enthusiastic about philanthropy and actively participate in the previous "Charity Activities for Ten Thousand People" held in Zhongshan City. On February 25, 2008, the group company donated 100 yuan to the Red Cross Society of Fusha Town, Zhongshan City. So far, Xingda has donated millions of yuan to various schools at all levels, the Red Cross Society and other social organizations.
Xingda people are enthusiastic about various social welfare undertakings, so they have produced a good social impact.
Fusha Niujiao Village, Zhongshan City, "Xingdaqing Scholarship & Aid"Art Gala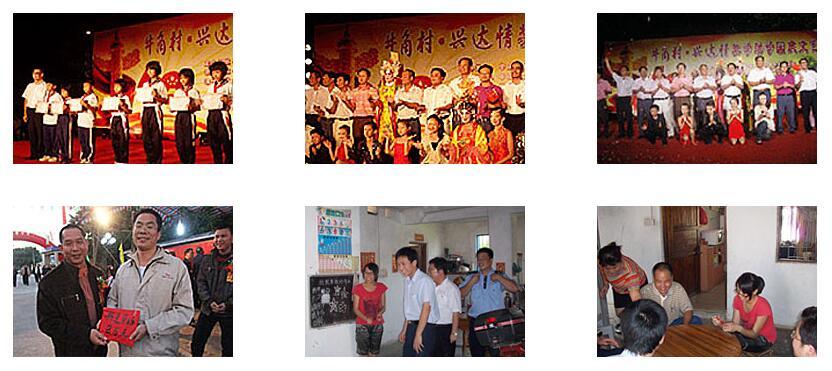 The cadres of Xingda handed over the subsidy funds to the Party Secretary Liang of Shangnan Village The leaders of Xingda visited and condoled to the poor students funded
"Self-improvement in Adversity, Planning Now to Achieve the Future" Exchange Meeting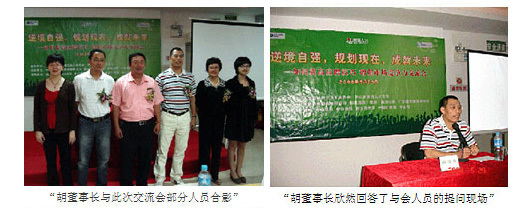 On May 29, 2009, the Federation of Hong Kong Industries and Zhongshan Zhihai Talent Market jointly held the exchange meeting on "Planning for Self-improvement in Adversity Now Achieving the Future", more than 200 fresh graduates gathered in Zhongshan Zhihai Talent Market, Chairman Hu He was invited to attend the event and delivered a wonderful speech as the keynote speaker. Chairman Hu shared his entrepreneurial experience with the participants, and also took this opportunity to understand the career needs of young people today, And the younger generation should work diligently and down-to-earth, keep learning, seek progress, be optimistic and positive A healthy attitude towards life with a grateful heart. After the speech, Hu Dong gladly answered the questions of the participants:

Q: Some people say that mentality is everything, as a job seeker, what kind of mentality do you think you should have?

Hu Dong: A person's mentality is very important! There is a saying that I often hang on my lips: only a good attitude can have a good mood; only a good mood can have good things! What a person in a bad mood does will not get any better. There is a story that a student saw three workers building a wall and asked each of them, "What are you doing?" " The first worker had a stiff face and sighed from time to time. He was inattentive when building the wall, and the wall was crooked. Hearing the student ask him, the worker shook his head impatiently and said listlessly: "You talk about me." What else can be fixed? Just build a wall, do this dirty and tiring work, and the income is very low, very depressing! So the student walked to the second worker, and saw that the second worker was building a wall seriously, and the wall he built was acceptable. He spoke and did things slowly. He said to the student: I am building a school, and the income is barely enough to make a living. , Anyway, this work is done every day counts as one day! The student walked towards the third worker, and when he saw this man was building the wall, he was in high spirits, whistling from time to time, and he seemed to be enjoying himself. When he walked to him, he felt a joyful force, and

And the walls he built were neat and beautiful. When the students asked him, he looked into the distance, his eyes were full of hope, and he said: You really don't know, I'm building the best school in the city, when students study here, it's comfortable and safe, At that time, many talents will be cultivated from this school, and after they graduate, they will make greater contributions to our hometown, so I am doing a very great thing now, and I am so honored. Doing the same thing, these three have completely different attitudes! The first person can only be a worker for the rest of his life, the second worker may become a construction expert, and the third may become the owner of a real estate company. A person's mentality not only determines the outcome of his actions, but also determines the outcome of his life. Life is about cause and effect, what kind of cause you plant will get what kind of effect, if you regard yourself as the "cause" of all problems, this person will be 100% self-responsible, will live a happy life, and will be infected More people will grow faster, which is the source of "good mood". If he regards himself as a "fruit", he will be full of complaints and accusations, always feel that he is a victim, and he will be full of negative energy, such a person will achieve nothing. Only by doing the little things well at hand can a person be able to do bigger things in the future! A person can only take on greater responsibilities in the future only by taking on existing responsibilities.

Q: Some people say that mentality is everything, as a job seeker, what kind of mentality do you think you should have?

Hu Dong: Using a human analogy, the paratroopers are "blood transfusion", and the training of talents within the enterprise is "blood production". For people, it is definitely their own blood production, but blood transfusion is also needed at critical times. In fact, the same is true for enterprises. When enterprises transform or upgrade, they also need airborne troops. But some companies can't make good use of airborne troops. The reason is very simple. It is the conflict between the cultures of the two sides. It is like a blood transfusion. The wrong blood type will cause fatal damage. Although there are many new things that can be learned from the airborne troops, there is no fixed formula for management, and good management methods are not useful in every enterprise. The airborne troops should be roughly unified in culture with the enterprise, and the blood type should be the same. This is the bottom line for receiving airborne troops. . Our company will also introduce some airborne troops. Every time I ask them to familiarize themselves with the terrain and landforms, and then slowly "land", and I do not recommend that the airborne troops "land" immediately, and immediately send troops to fight. Immediately after the new officer took office, the three fires will overturn and negate the original enterprise, so that the airborne troops will most likely lead to "beginning of the army". I advocate that the airborne troops "survive first, develop later." Less reform, more improvement". As an enterprise, it is heroic but useless to provide a sufficient platform for the airborne troops. This kind of platform includes the trust and tolerance of the airborne troops. Any performance of the enterprise is made by the team, and the airborne troops are definitely not. Quick-acting medicine is not a savior. Give them time to run in, give them a chance to try, and tolerate the airborne soldiers like old employees.

Q: Some people say that mentality is everything, as a job seeker, what kind of mentality do you think you should have?

Hu Dong: Of course you can. Calling for consultation shows that you are very interested in the job and have the desire to win that job. Most companies like this kind of person. Maybe you can have that job with just one consultation call. By the way, looking for a job is a two-way choice process. When a company chooses you, you are also choosing a company. When choosing a job seeker, I think you must first choose an industry. Which industry matches your professional expertise? Are you interested? Are you willing to fight for it? After choosing the industry, choose the company. Once you have selected a company, you should focus on it. Some people in the workplace are looking at the mountains, and they are always dissatisfied with their current jobs. They always dream of finding a perfect company. In fact, companies are where problems exist, so they jump around and dig wells everywhere. But the water never came out. In the workplace, it is better to dig a well in ten years than to dig ten pits in two years, which will waste one's youth in vain. In our Xingda, I think one year of employment is just a learning stage. After two years of employment, I can gradually integrate into the culture. I will find opportunities to communicate with them in depth after three years of employment. Another point is that all the opportunities and achievements in life are created by oneself. For example, some people in the career will complain that "heroes are useless". I think the reason why there is no "useful place" is because You still need to do better. A person who can't even find a "place of use" is not necessarily a "true hero". Everyone's present and future are created by themselves, don't attribute your success and failure to the environment, everyone's "useful place" is not anywhere else, just under your feet!

Q: I was deeply touched by what Dong Hu said today. Your speech gave us direction and strength. I think if I could have heard Dong Hu's success story and what I just said ten years earlier, I would have succeeded ten years earlier. I am very grateful to Chairman Hu for his kind deeds to us job seekers today. I have another question. What culture does the company mainly advocate?

Hu Dong: Thank you. In fact, sharing is also a culture of our company. The continuation of human civilization is achieved by sharing. Without sharing, people will degrade. The key to sharing is openness. my country has been reforming and opening up for 30 years, so now the motherland is stronger. North Korea has been shutting down, so they don't have much phone and TV use now. If I hadn't openly exchanged energy with the outside world, our Xingda would not have developed so steadily. The power of openness is enormous! Our company's sharing culture is well done. Excellent leaders make good use of the wisdom of the team. Employees who have achieved successful performance in each company must be invited to come out and share with you. On the one hand, this can make the sharers Feel honored and reflect value. On the other hand, it can also turn the successful experience of the individual into the experience of the team, reduce the time of groping, and speed up the improvement of the individual and the team! In addition, our company promotes a culture of integrity and gratitude. Integrity is the foundation of cooperation, and gratitude can make cooperation happy and continue to cooperate. Speaking of gratitude culture, let me share a story with my friends: There is a little girl named Tingting who is very cute. Once she was quarreled by her mother because she watched TV and did not do her homework. She felt that her mother was too strict, and she felt very Aggrieved, he quietly ran out of the house. Tingting was walking aimlessly on the street. It was getting dark and her stomach was growling with hunger. She passed a noodle restaurant, and the smell made her salivate. But as soon as she touched her pocket, she didn't have a penny on her body. Just as she was wandering in front of the noodle shop, she was seen by the noodle shop owner. Seeing Tingting's starvation, the owner asked her to come in and cook a bowl of hot noodles. Tingting gulps down the noodles and confides her mother's grievances to the proprietress. Tingting was very grateful to the proprietress, saying that you don't even know me, but you still cook noodles for me. You are the best person in the world. The proprietress smiled and patted Tingting's head and said, "Son, I just cooked a bowl of noodles for you, you thank me like this, you know? Your mother doesn't know how many bowls of noodles you have cooked for you, not only did you not thank her, but you ran away from home to scare your mother". As soon as Tingting heard this, tears flowed down her cheeks, she ran home and hugged her mother tightly.…… I also told this story to the people in the company, if a person who is not even grateful to his family, How can you be loyal to the company! So I encourage our company's employees to go home to visit relatives once a year, and I can pay for the journey. The highest state of gratitude is to thank one's enemies, because the enemy will make one progress faster! If even the enemy is grateful, then there is a pattern of successful people.