Environmental Charity
---
In response to the instructions of the Youth League Committee of Fusha Town, Zhongshan City, Guangdong: Xingda Group Zhongshan Headquarters held the first meeting of Xingda volunteers on the afternoon of December 30, 2010, marking the official establishment of the Xingda Volunteer Service Team.
The purpose of the Xingda Volunteer Service Team: Serving Xingda and contributing to the society! The members of the Xingda Volunteer Service Team officially appeared for the first time at the "Xingda Group's 2011 New Year's Day Garden Activities", and provided warm and professional services for the participating Xingda employees at the event site!
After the establishment of the Xingda Volunteer Team, they also participated in the "Spring Tour Greenway, Wanjia Tongle" event in Fusha Town on March 5, 2011, and the "Tree Planting" event in Fusha Town on March 11, 2011. , On March 13, a series of activities such as the Fusha Town Market Charity Sale fully demonstrated the dedication of Xingda volunteers and were widely praised by the government and society!
Xingda volunteers participated in the spring greenway activity in Fusha Town

Xingda volunteers participated in legal publicity activities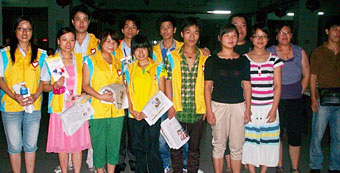 The Zhongshan Legal Film Projection Volunteer Team went deep into factories and enterprises, and volunteered to show legal films to migrant workers, communities, schools, and village (resident) residents. At 8:00 pm on June 18, the city screening team screened the movie "Favorite" voluntarily for Xingda employees in the company's staff restaurant. At the same time, Fusha Town Judicial Office, Town Youth League Committee and Xingda volunteers set up stalls to carry out targeted legal education and publicity activities, distributed legal publicity materials, received legal consultation, etc. A powerful and influential legal publicity campaign.
Xingda held large-scale environmental protection publicity community activities
In order to promote environmental protection awareness, popularize environmental protection knowledge, guide social citizens to pay attention to environmental protection public welfare undertakings, and jointly build and share a high-quality living environment, Xingda Hongye held a large-scale environmental protection publicity community activity on December 31, 2011. The activity was supported by Fusha Town Environmental Protection Branch, Fusha Town Public Security Branch, Fusha Town Chamber of Commerce, Fusha Town Youth League Committee, Fusha Primary School, Pengcheng School, Shengfeng Dyeing Factory, Haifeng Dyeing Factory and other government departments, institutions and schools, Support participation of sibling units. At 2:00 p.m. on the same day, a total of 70 cadres and employees of Xingda Hongye and the company's corporate coach leadership training instructors gathered in the company's new square. Each person stepped on a bicycle and formed a long queue. Starting from the gate of Xingda Factory, through Xingda Avenue, Fugang Road, Funan Avenue, Fusha Avenue and other township main roads in Shangnan Industrial Zone, at 4 pm Arrive at Fusha One Plus One Plaza before the point. Along the way, environmental protection slogans were shouted neatly and loudly, which attracted many citizens to watch and appreciate. From 4:00 pm to 6:00 pm, the cadres and employees of Xingda who participated in the activity were divided into seven groups and distributed environmental protection leaflets in 7 prosperous areas such as the new market and the old market in the township to widely publicize environmental protection knowledge. From 6:00 pm to 7:00 pm, a thousand signature activity for Xingda Hongye environmental protection publicity was held in One Plus One Plaza, and many citizens signed the banners to support the environmental protection cause. From 7:00 p.m. to 8:30 p.m., Xingda Hongye's large-scale environmental protection publicity community party was grandly held in One Plus One Plaza. Xingda employees composed and performed wonderful environmental protection dances, sketches, cross talk, students from Fusha Primary School performed collective dances, calligraphy and painting and other programs, and students from Pengcheng School presented a passionate drum performance……The party was also interspersed with environmental protection There was a quiz with prizes for knowledge, and the citizens scrambled to answer, and the scene was very active. The party scene was crowded with people, attracting thousands of citizens to watch the whole process seriously. After the party, Xingda also distributed thousands of free environmental gifts on the spot. Xingda's first large-scale environmental protection activity out of the factory has greatly exceeded the expectations of Xingda's cadres and employees, and has been generally praised by the general public and has achieved unprecedented success! "Zhongshan Business Daily", Fusha Town TV Station and other town media, interviewed and reported the event on the whole day.
June 11th is "World Environment Day", and employees of Xingda Hongye actively participated in the environmental protection publicity activities held by the Fusha Town Government on that day.
"2011 Zhongshan Outstanding Corporate Volunteer Hong Kong Exchange Training Course"activity
Xia Xian, Secretary of the Youth League Committee of Xingda, participated in the "2011 Zhongshan Excellent Enterprise Volunteer Hong Kong Exchange Training Course" organized by the Youth League Committee from August 18 to August 22. ;Activity